January 11, 2013
Thank you for attending the book launch!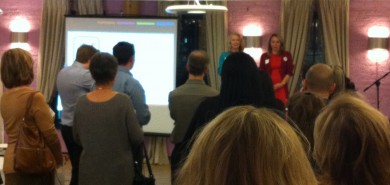 Thank you all who attended the launch of our book Who Are You Meant to Be? While we didn't get a chance to speak to everyone who attended, it meant a lot to us to have you there supporting us. A special thanks to our speakers, Les Stroud, Producer, Actor (Survivorman) & Musician; Janet Graham, Managing Director IQ Alliance & Author of Babes on Bay Street and Zoe Cleland, Actor; who made the Striving Styles come alive for the audience by talking about their own experiences.
Last night was truly a time to celebrate as we have done more than just written a book. We have created a system that we hope will change the way that people: relate to themselves and others, approach their development, parent their children, decide on the careers they want to pursue, and interact with others in relationships. A system that challenges the way we currently think about mental health and puts the responsibility for it in the hands of each and every individual. And most importantly, it's a system that helps people understand the mechanics of their minds, how their brain is organized and how they can become who they are meant to be.
Our goal and our mission in developing the Striving Styles and writing our book was to give people tools to build self-awareness and to break long standing self-protective behaviours that get in the way of real happiness and fulfilment. Who Are You Meant to Be? Shows you how to get on the road to achieving your potential by helping people know the mechanics of their mind, how their brain is organized and how to approach development based on their own Striving Style.
We hope everyone you enjoyed the night and please spread the word about our book!