February 13, 2018
How to Find Meaning in a Career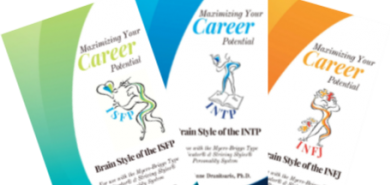 Based on the Striving Styles Personality System & Myers-Briggs Personality System
Seeking meaning in our lives is often a result of having met our basic physical needs of food, shelter, and comfort in life. We seek a career that is meaningful, where we can express ourselves and develop our potential, in the same way we pursue and nurture relationships, so we can share and experience happiness and express love through words and actions to other people. We work for financial independence, so we can do more of what we enjoy. We might also assist others to alleviate suffering in their life through volunteering or charity work. Striving to achieve our potential becomes our priority because it gives meaning and fulfillment to our life.
The following are the main things you need to do to consciously select a career where you are most likely to thrive.
Do What You are Interested In
Chose a career that supports your development and the achievement of your potential. Pleasing others will lead to unhappiness and the need to change careers down the road. For those people reading this that have struggled in careers that aren't satisfying to them, it's time to remember your potential and the emotional needs you must meet for you to be truly satisfied in a career.
Build Awareness of Your Interests, Passion and Vocation
Assessing careers through the lens of your personality type, needs and the emotional drivers of your behavior helps you focus on choose a career from the inside out. Stop thinking about finding something that you love, focus on knowing your needs, vocation or passion and building a roadmap to get there.
Understand the Need Satisfiers of Your Personality
Need Satisfiers are the activities and roles at work and in your career, that meet the predominant need of your Personality Type. To self-actualize and reach your full potential in your career, these satisfiers must be present at work, and, ideally, they should make up the greatest part of your day. Without the presence of these satisfiers of your predominant need, you cannot utilize the strengths of the predominant brain function of your Personality Type. You may achieve a certain degree of success, adapting to the needs of your role, and working with the other brain functions. However, it will always take you more effort and energy to do your work, and to maintain your forward and upward movement. You will struggle to maintain your momentum, and you are likely to find yourself unsatisfied in your work, easily stressed, lacking in engagement, or simply bored.
Know What Careers Frustrate Your Needs
Need dissatisfiers are the activities and jobs at work and in your career, that frustrate or thwart the predominant need of the Personality Type. You will find it very difficult to reach your potential in the presence of some or all your need dissatisfiers. The ongoing presence of need dissatisfiers means that your energy will be directed toward getting your need met rather than doing your work. You are likely to find yourself unsatisfied in your work, easily stressed, frustrated, apathetic about your work, or close to being burned out. You are also more likely to engage in non-productive and self-protective behaviors as well, getting your predominant need met in whatever way you can, rather than working towards your career goals.
Work Environment Matters
Your career may have a lot of need satisfiers, but the work environment doesn't. For example, you may have found the dream job for your career in social media but it's an open-concept office, and you can't deal with the amount of noise and interruptions. Or, you like the security of the "chain-of-command" leadership but the business involves decision-making by consensus. It's important to understand both how the elements of a career will satisfy your predominant need, and what you should look for when choosing a line of work. Make sure that the environment you choose to work in will support getting that predominant need satisfied on an on-going basis. When doing your search for a place of employment, spend plenty of time investigating the nature of the work environment, its organization, and its company culture to ensure it has minimal barriers to satisfying your needs.
______________________
For more information about how to select a career that will meet your needs and is aligned with your Personality Type, purchase a Maximizing Your Career Potential book for your Personality Type on Amazon.com.