March 11, 2013
ORGANIZATIONAL AND BUSINESS
A New Paradigm for Training: The Striving Styles Personality System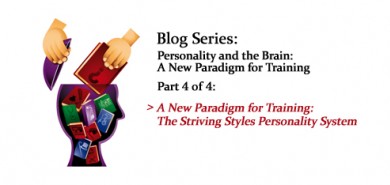 The Striving Styles Personality System is the first, comprehensive, neuro-psychological framework for learning how a person's cognitive functions are organized in their brain and which of the functions is hard wired from birth to be used to meet the psychological needs of the self. It shows how behavior is used to get the need of the function met. It also show how each brain is wired to take in and process information while learning.
The Striving Styles is a complete development system that that incorporates the latest advances in brain development and neuroplasticity as it relates to training and how the brain learns. It provides people with a structured and systematic approach to developing learning programs that sustain development over time.
The SSPS is not just a personality test or assessment. It is a three-part developmental system that includes a roadmap for development. It consists of the following components:
An assessment for identifying how the brain is organized based on a four quadrant model; the predominant need; frequency of use of each of the functions; the equivalent Jungian cognitive functions. It shows how each Style learns and the challenges they have in the learning process.
A Developmental Framework that focuses on strategies centered on how the brain learns.
A Roadmap for Development that identifies the specific steps to take to change behavior and re-pattern the brain.
With a clear roadmap for how the brain learns, processes and stores information and builds new neural pathways, training programs can improve their effectiveness by incorporating a variety of new experiences over time and deal with any emotional resistance that may get in the way of desired training outcomes.
Or, sign up for one of our upcoming webinars to learn more.
Read More of This Series: Part 1 - Why The Paradigm Needs to Change; Part 2 - Using Personality Tests to Understand How the Brain Learns; Part 3 - Engaging Emotions to Facilitate Successful Training Programs
Download our Complimentary Article: Lessons To Learn